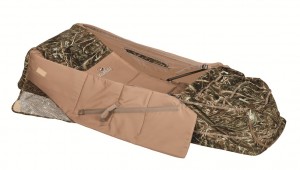 There are several great reasons to add a Redhead® Pit Stop Layout Blind to your waterfowl hunting arsenal. One reason is you want to disappear when ducks or geese approach. It sounds simple. Yet the birds' eyes are so keen, and pressured waterfowl become so wary, invisibility is a tall order.
Besides blending flawlessly with the background, a good layout blind must be comfortable, rugged, lightweight, easily hidden, and versatile. The Pit Stop Blind meets every demand. At its core is a lightweight, collapsible steel frame. It deploys in seconds and folds to packable size just as quickly with no nuts, bolts, or pins to lose in the dark, and no tools required.
The shell is 600 D fabric in Realtree Max-5 camouflage for maximum versatility in the field, among the cattails, or on a mid-river sandbar. Brushing blinds is tedious and stressful as the morning's first birds buzz the decoys, but the PitStop's brush straps are ample in both quantity and size so you can get the job done fast. Once you're inside, a padded headrest and precisely angled back support allow you to wait in comfort, ready for instant "bust 'em" action. The large size allows easy movement inside the blind, and there are flagging ports for both your hands. Mesh pockets keep shells, calls, dog collar controller, and more conveniently in reach.
Not only is the RedHead® Pit Stop Layout Blind fast, portable, and comfortable, it also helps tote your gear wherever you need to go. A compartment under the seat is perfect for rag decoys, silhouettes, sock decoys, or other gear. A roomy, external, hands-free pocket can carry your goose flags and other gear. Comfortable, padded backpack straps center the blind and its contents squarely on your back — even when terrain goes from bad to muck.
Layout blinds incorporating this level of design, mobility, comfort, and quality can be break-the-bank expensive, but the RedHead® Pit Stop Layout Blind is a do-it-all marvel at just $149.99. It's available at http://www.basspro.com/ or your nearest Bass Pro Shops retail store.
RedHead® Pit Stop Layout Blind
• Large, but easily concealable size – 80" L x 26.5" W x 14" H
• Versatile Realtree Max-5 camo pattern
• Rugged 600D fabric with ample brushing straps
• Strong, durable steel frame construction
• Comfortable padded head rest
• Ample internal and external pockets for storage and transport
• Comfortable backpack straps for carrying
• Quick deployment and breakdown
• Zip open foot door for easy clean out
• Flagging ports on both sides of blind
• MSRP $149.99
• Available at http://www.basspro.com/RedHead-Pit-Stop-Layout-Blind/product/1404111324/