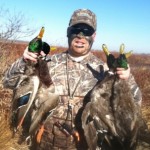 @jefbet03
active 9 months, 2 weeks ago
What's up @klobkilzduk ?????
View
Kjnlog and HonkerHotline are now friends 2 days, 15 hours ago

Ahhh….XC….glorious sport. You do know you need to move around right Cup??

And yes Bill….I live every day

We have piled up the teal already this year….I heal quick and will be shooting in a couple of weeks (maybe sooner)….just in time for the green….

Missed all last year after an unfortunate incident with a 4 wheeler. Lucky to be alive actually. Well….went mountain biking Sat and guess what….3 broken ribs the week before opener…..maybe someone is trying to tell me something???

The Clowns won yesterday…..

So you're saying as a result of knowing friends through WFC you saved $50 as well?

Looking for prime duck, goose and deer hunting property with driving distance of Chicago and suburbs?

38.8 Acres in Garden Prairie, IL $150,000 (photo attached).

— Two blinds on property
— 15+ acres of water during normal flows
— Creek borders property (good smallmouth & northern fishing)
— Deer population good to excellent (3 acres…[Read more]

Counting the days here. 5 days of rain in the coming forecast. That has me stoked.

Informative article — from Al Jazeera North America. At least some news outlets step outside the political hate box.

http://america.aljazeera.com/articles/2014/10/1/the-battle-in-californiatosavewaterfowlfromendingupasdeadducks.html

There are several great reasons to add a Redhead® Pit Stop Layout Blind to your waterfowl hunting arsenal. One reason is you want to disappear when ducks or geese approach. It sounds simple. Yet the birds' […]

Jc — Ever since you showed up, I've been seeing "I date Asai" ads on the site from google. What did you do?

Wasn't there a scene like that in Breaking Bad?

dern country folk.

Firearms investment commodities?

Cough… Freedom Group, cough, Cerberus Capital Management.. cough cough.

I think the changes in the industry are representative of manufacturers becoming a Wall Street managed mega corporation.