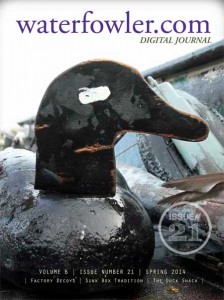 Spring has spring across the nation and the majority of snow geese have crossed the 49th parallel into Canada.  Waterfowler.com begins the official off-season with the celebrated return of Waterfolwer.com Journal – in free, digital format for our readers.
Hello folks, and, as always, welcome to Waterfowler.com.
After an extended hiatus, Waterfowler.com Journal will again be published, albeit paper free and also free of any annual subscription fee.  Thanks to advances in digital publishing technology and the widespread use of hand-held mobile and tablet devices, we are excited about the advances that make it possible.
Over the past two-years, the number of readers that access our website via mobile devices has sky rocketed.  In response to this changing statistic, Waterfowler.com migrated our website to a mobile friendly, responsive layout and the number of hunters who visit our site, from the field and on the road, continues to grow.
Waterfowler.com Journal is not only a mobile friendly publication, but can also be downloaded (in PDF format) for iBooks and Kindle.  So yes, you can read it in the bathroom or anywhere you desire.
Waterfowler.com online will continue to feature free News, Product Announcements, Hunting Reports and Migration Updates on our website and will limit Journal content to the stories and imagery to the celebration of waterfowl hunting tradition.
We ask our readers to pass along the link to our publications, to friends, family, and the social media service they use.  We hope you enjoy the new format and the many issues to come.
Until next report, enjoy Waterfowler.com Journal, Issue Number Twenty-One.