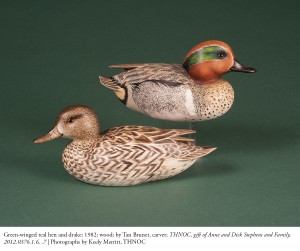 June 2014 | New Orleans, La. — The Historic New Orleans Collection is proud to announce the donation of more than 300 hand-carved decoys and other works of art by southeastern Louisianan craftsmen. The Anne and Dick Stephens Collection of Louisiana Decoys and Wildfowl Artifacts, part of which is on display in THNOC's Orientation Center at 533 Royal St., celebrates the talent and dedication of the men who devoted themselves to this region's distinct carving traditions. Admission to see the display is free, and gallery hours are Tuesday–Saturday, 9:30 a.m.–4:30 p.m., and Sunday, 10:30 a.m.–4:30 p.m.
"Louisiana has a long and well-recognized tradition of wildfowl carving," said John H. Lawrence, THNOC's director of museum programs. "The Stephens's gift represents elements of artistic and cultural expression that are in keeping with our mission to portray and protect the history of this region."
Although the tradition of decoy carving in America dates back to approximately 500 B.C., the earliest surviving examples from Louisiana are far more recent—dating only to the 1800s. Until the mid-20th century, the primary purpose of "working ducks," or decoys carved to help hunters attract their prey, was functional, not aesthetic. No formal training existed for early carvers, and community carving circles served as informal apprenticeships. After World War II, when the introduction of plastic decoys made their wooden counterparts less economically competitive, wildfowl carving began its transition from folk art to fine art.
The display will present a changing selection from the donation, which includes works that date from 1925 to 2012. In addition, visitors will be able to see the individual styles of 32 carvers and numerous species of waterfowl. One carver in particular—Andrew "Tan" Brunet of Galliano, La.—was recently named Living Legend for 2014 by the Ward Foundation of Salisbury, Md.
"Louisiana's carvers are some of the most distinguished in the nation, and they continue to win top honors in competitions," THNOC's Executive Director, Priscilla Lawrence, said. "We are delighted to showcase such a long tradition of excellence."
THNOC presented an extensive, two-part exhibition of early and contemporary decoys in 2007 and 2008 titled "Birds of Feather: Wildfowl Carving in Southeast Louisiana." The first display focused on decoys created for use in the field, and the second traced the evolution of the carving tradition as a decorative and competitive art form. Companion catalogs for "Birds of a Feather" are available at The Shop at The Collection.