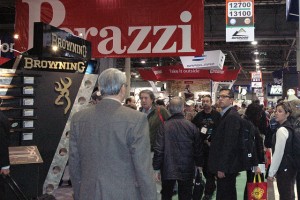 Largest Trade Show in the World of Recreational Shooting, Hunting and Law Enforcement Products
LAS VEGAS, Nev. — Nearly 60,000 industry professionals will attend the highly anticipated 35th anniversary of the Shooting Hunting and Outdoor Trade ShowTM (SHOT Show®) at the Sands Expo and Convention Center January 15-18.
Owned and sponsored by the National Shooting Sports Foundation® (NSSF), the SHOT Show is the largest trade show of its kind in the world and provides a first look at new products and services used for target shooting, hunting, outdoor and law enforcement purposes. Though the show is open to the trade only and not to the public, consumers will see the new products unveiled here on retailers' shelves during the course of the year.
The $4.1 billion industry is coming off a strong year and is cautiously optimistic about the year ahead. More background checks, which are an indicator of firearm sales, were conducted in 2012 than ever before, and statistics show that more people are hunting and target shooting. Another driver of sales is the purchase of firearms for personal and home protection.
Even as Americans purchase more firearms, the industry points out that violent crime continues to decline, demonstrating that more guns do not lead to more crime, as anti-gun groups often claim. Also, the industry's success during the economic downturn helped maintain jobs from the manufacturer through retail levels.
SHOT Show, the industry's premiere trade show, will take place during a time of heightened national attention about firearms ownership and potential legislation. "Ours is a responsible industry that manufactures and sells lawful products to law-abiding citizens, who in turn exercise their Constitutional right to own, use and enjoy firearms safely and responsibly for lawful purposes," said NSSF President and CEO Steve Sanetti.
"A prerequisite to any dialog involving our industry and its products is an honest recognition of the legitimacy of what we do and the important part of the national culture which we represent," said Sanetti. "Hunting and the recreational shooting sports are here to stay. And so are we."
The 35th annual SHOT Show will take place for the fourth year in a row at the Sands Expo and Convention Center, which has made extensive improvements to ensure a comfortable environment for those attending. SHOT Show attracts buyers from all 50 states and more than 100 countries.
On the exhibit floor, which covers 630,000 net square feet and has 12.5 miles of aisles, manufacturers and distributors display a wide range of products, including firearms, ammunition, gun safes, locks and cases, optics, shooting range equipment, targets, training and safety equipment, hunting accessories, law enforcement equipment, hearing and eye protection, tree stands, scents and lures, cutlery, GPS systems, holsters, apparel, leather goods, game calls and decoys.
"Firearms ownership is popular and mainstream," said Sanetti. "Industry is developing new products for women and competition shooters, hunters, people who are interested in concealed carry, and law enforcement, all as a result of consumer demand."
Among the enhancements to the 2013 SHOT Show are a new business center, coat check and exhibitor services area; the new Café Sands in the lower lobby; new escalators and stairs; renovated upper and lower lobbies, new carpet and tile throughout the building, new digital signage, a vending room near the coat check area, and a new scooter rental area.
"The SHOT Show is the premier trade show in our industry, and the Sands Expo has stepped up to make many improvements to the venue that will help create the finest SHOT Show experience yet for our exhibitors and attendees," said Chris Dolnack, NSSF senior vice president and chief marketing officer.
On the first evening of the show, NSSF will present its State of the Industry Dinner, with Outdoor Channel once again serving as the title sponsor of the event. An expected audience of 2,000 will listen to a recap of NSSF achievements during the past year and be entertained by Las Vegas headliner Terry Fator.
In addition to Pinnacle sponsor Outdoor Channel, other sponsors of the 2013 SHOT Show are GunBroker.com, ArmaLite and Las Vegas Convention and Visitors Authority. Ram Truck Brand is the official truck of the SHOT Show.
The show brings together all segments of one of America's oldest and most storied industries. Manufacturers, wholesalers, retailers, shooting range operators, outdoor media and representatives from wildlife conservation groups conduct business, exchange ideas, renew contacts and reaffirm the unity that has been the hallmark of the hunting and shooting sports industry.
The largest number of outdoor media in the world turns out at the SHOT Show to cover the introduction of products and to report on the firearms and outdoor industry. NSSF has credentialed about 2,000 media members for the 2013 show. At SHOT Show Media Day at the Range, scheduled for Monday, January 14, members of the press can handle, test and learn about the new products that will be on display over the next four days.
The SHOT Show provides a perfect setting for organizational and educational meetings. Retailers take advantage of SHOT Show University to learn from experts about new marketing strategies and compliance with federal regulations, with the latter featuring for the first time an open forum with NSSF federal firearms licensee compliance consultants. Law enforcement professionals also will have a series of seminars to choose from as well.
The SHOT Show is a "must-see" event for industry professionals. Anyone with an interest in the show and new industry products can learn more www.shotshow.org or by following the show on Twitter and Facebook.