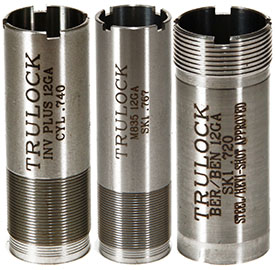 Not having a tight pattern can make all the difference in whatever shotgun sport you choose. In hunting, it can mean you miss bagging your prey; in shooting events, it can mean losing by just a few points. No one wants any of that. Trulock Chokes has just the answer for tightening your pattern – its Pattern Plus choke tubes.
Pattern Plus chokes are similar to factory chokes in that they screw in flush with the end of the barrel. The chokes come in a variety of popular Trulock choke styles, including turkey, modified, skeet 1 and 2, cylinder styles and more. These chokes are available in numerous sizes to fit most any brand and gauge of shotgun.
Just like all Trulock choke tubes, Pattern Plus chokes are crafted on CNC lathes from 17-4 PH grade stainless-steel solid bar stock – never welded tubing. All Trulock chokes have a high resistance to staining and rust and are backed by Trulock's lifetime guarantee.
Don't let your trusty shotgun fail you because of its shooting pattern – improve it with a Pattern Plus choke tube from Trulock Chokes.