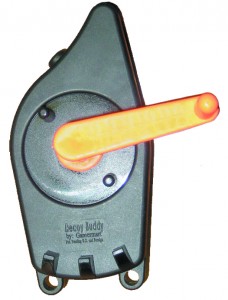 Any duck hunter who has been at this great pursuit for any length of time has experienced the exasperation of dealing with hopelessly tangled decoys.
Duck hunting is hard work, no doubt about it. Just getting to a duck hole is often a
rigorous adventure, whether it's a dark-of-night boat ride or a long trudge in waders
pulling mud through chest-deep water. Then it's time to set the decoy spread. All
that time spent in the garage the night before the hunt, carefully wrapping decoy
lines, securing anchors and bagging the dekes… a waste of time. With shooting light
approaching and the sound of wings overhead, you're still trying to untangle decoys.
Decoy Buddy, by Game Smart, is a weighted 8-ounce reel that hooks onto your
floating decoy. Simply pull out the amount of line needed for the depth of water you
are hunting, and toss out the decoy. No wasted time unwinding decoy lines, and best of all, no tangled mess of decoy lines to deal with in the dark. Continue reading