To post a report you must be a REGISTERED user of Waterfowler.com and logged in.  Registration is free.  
To post a hunting report, select HUNTING REPORTS from the main menu or click on the Hunting report box in the right column. A page will appear with a US MAP.  Click on the state to read that State's reports or post a new one.
To post a report on the page you have selected, scroll to the bottom of the page and complete the fields in the post box, as shown in the image below: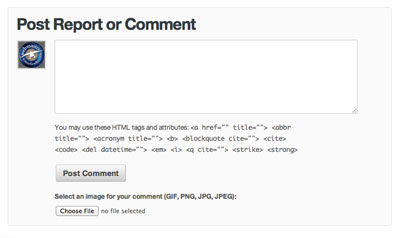 Fill in the text in the POST REPORT box.  To add an Image in your post, click on CHOOSE FILE, to browse your computer and select your image.  Once you have selected the image, click POST COMMENT.
Your report will now appear on the page.  If it hasn't refresh the page to see your post.
In addition to posts, you can comment on other posts and create a threaded message.  To do so, click the REPLY button below a post and fill in comment boxes and post (just as you did for a hunting report above.)  The reply button is highlighted in the image below.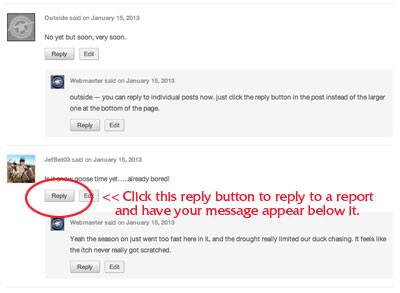 If you need additional assistance, email support@waterfowler.com, or call 815-337-8300 for assistance.