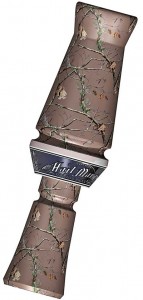 The Hail Mary in football is that desperate, last-hope long bomb of a pass into the end zone as the seconds tick off the scoreboard clock. In duck hunting, a hail call to a distant flock with one of the two new Hail Mary Mallard Calls from Flextone is far from an act of desperation.
The new Hail Mary duck calls from Flextone offer reach beyond the range of other duck calls. Attract those distant birds with a loud, sustained sequence that doesn't wear the caller down.
Flextone's new Hail Mary Single and Double Reed Mallard calls are designed for open-water hunting when volume and reach is needed. The Hail Mary features smaller port holes to provide added back pressure. This means the caller can scream
louder and longer with hail calls and follow-up with comeback calls without running out of breath.
The Hail Mary Single Reed Mallard call features a unique 1.5 reed for loud calling, while the Double Reed allows for maximum control. Both new calls feature Flextone's signature Soft Touch Hard Body that mimics the soft tissue of a real duck's calling structure for raspy, realistic mallard tones.
Both also feature a beautiful Realtree AP Colors Camo pattern found in no other
duck call. Couple that with laser-engraved brushed aluminum band and the Soft
Touch Hard Body material, and you not only have a gorgeous duck call, but a
realistic, nasty sounding mallard call that greenheads can't resist.