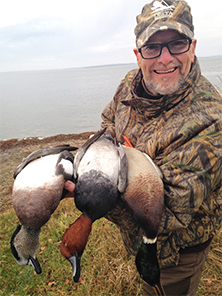 BISMARCK, N.D. — Larry Kaumeyer has been named chairman of the board for Delta Waterfowl.
Kaumeyer, 52, a life-long waterfowl hunter from Edmonton, Alberta, has served on Delta's Board of Directors since 2007.
Kaumeyer credits his father, Gerry, for igniting his passion for waterfowling as a young man.
"I absolutely love hunting ducks," he said. "If I have a choice of doing anything in the outdoors, I will hunt ducks. I enjoy every aspect of being out there."
The chief executive officer of Infracon Energy Services said he joined the board because he respected Delta's long history of excellent waterfowl research and involvement in protecting hunters' rights.
"It's an exciting time at Delta," Kaumeyer said. "We're taking the science and putting into action. We want to make sure that research is being used to produce ducks for duck hunters."
Kaumeyer takes over the chairman's seat as Delta Waterfowl embarks on a new five-year plan that asserts its role as "The Duck Hunters Organization." Delta will continue to ensure the tradition of duck hunting through hunter advocacy work and First Hunt recruitment efforts.
Through member and donor support, Delta will ramp up and focus tremendous resources on duck production programs, he said.
"From a board perspective, we're comfortable taking steps into active duck management by expanding our Hen Houses and Predator Management programs," Kaumeyer said. "It's a big change for Delta. We're putting our money where our research tells us and we're doing it for every duck hunter on the continent."
Delta's Board of Directors includes:
Larry Kaumeyer, Chairman, Edmonton, Alberta
William M. Yandell III, Vice Chairman, Memphis, Tennessee
William M. Mounger II, Treasurer, Flowood, Mississippi
Chip Pitfield, Secretary, Toronto, Ontario
Charles C. Hager Jr., Past Chairman, Bozeman, Montana
John H. Dobbs Jr., Memphis, Tennessee
George C. Freeman III, Richmond, Virginia
Daniel C. Hughes Jr., Jackson, Mississippi
R. Parker LeCorgne, New Orleans, Louisiana
Donald W. Morrison, Calgary, Alberta
Charles S. Potter Jr., Lake Forest, Illinois
Dr. Frank Rohwer, Delta Waterfowl President